There needs to be an automagic way to update the address bar while scrolling. This way one can deep link to a specific part of a webpage without hassle. This is crucial for sharing content on mobile- and other 'fatfinger' devices.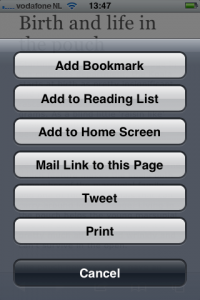 This is the case: As you read an article on your iPhone or iPad you find a brilliant quote that you like to share with the world. So you click the "Tweet this"-button. But there is something wrong:
The address you shared starts all browsers at the top of the webpage in stead of straight to the quote! That's awkward!
This problem has been solved quite a long time ago in the language of the web: HTML. They invented so called 'Achors'. Anchors work like little pieces of bookmark-velcro. Just add a hash-sign (#) combined with the anchor-name to the address of the page and your browser will jump right  to the relevant quote. That's what we call 'deep linking'.  In the address bar of the browser you get URL's like:
http://awesomekoalas.com/#food
Unfortunately these anchors are invisible to the human eye. As a web developer you can expose an anchor list by adding a table of contents in the document so people can jump right to the part of interest. This is however a lost art and rarely used in favor of a clean styled page (which I can relate to).
Continue reading Enabling deep linking (for mobile devices), the right way!